Four Small Town, Small Business Marketing Strategies That Work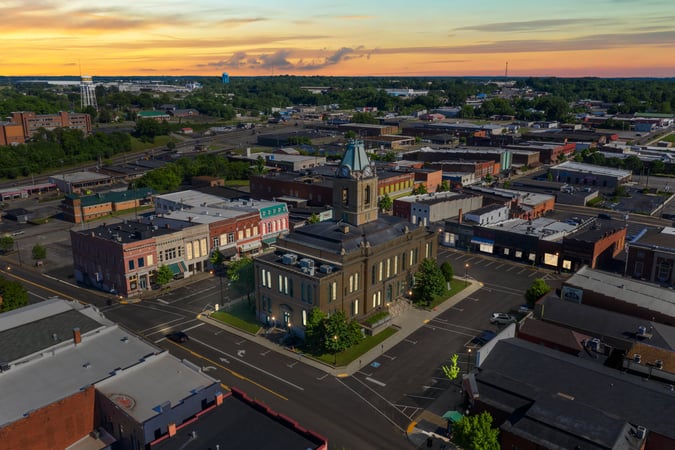 As a small business owner in a small town, it can feel darn near impossible to compete with bigger brands and corporations. And truly, if all you're doing is opening your shop and waiting for customers to walk in, it kind of is impossible. But - and come a little closer for this because we want to tell you a secret - it doesn't have to be.
Ask yourself a question: are you taking advantage of what your community has to offer in the way of collaborations, marketing, and networking? Do you even know what those opportunities are?
Below, we'll outline four marketing strategies that can help your small business really stand out and attract the customers you're looking for.
Serve Before You Sell
Above all else, small businesses are most successful when they truly immerse themselves in the community with a spirit of service. Because when we all work together, we all grow together! This often means getting outside of your shop or place of business (and maybe even your comfort zone), and serving the community in the ways it needs most.
Perhaps that means:
Volunteering at local non-profits
Offering your services to a few select individuals at no-cost
Offering goods to silent auctions for organizations who serve the community
Using your social media to promote other businesses' events or sales
The more you share your talents and kindness with your community, the more likely they are to share their support with you. Showing up in a small town is vitally important if you want to be successful. So show up and show out! Make sure this is a key strategy in your overall marketing plan.
Host Local Events & Workshops
To really establish yourself and your business as a key community member, start hosting local events and workshops. This is a very effective marketing strategy for small town small businesses. Make sure the events you host are relevant to your business and community, so that you can attract new customers AND build relationships with existing ones.
For example, if you own a yoga studio, you could host a free outdoor yoga class in the park to promote your business and connect with potential customers.
Or, if you own a bookstore, you could host a book club or author event to bring book lovers together and showcase your business.
Think outside the box, and have fun with it!
Partner With Other Local Businesses To Create Unique Experiences
Partnering with other local businesses is a great way to expand your reach and engage with the community. And for an extra fun added bonus, you'll open yourself up to a whole new array of customers!
Consider the other small businesses in your town:
Who is a good fit to host joint events?
Is there anyone who might promote your business?
Have you considered collaborating for cross-promotions?
If you own a coffee shop, for instance, you could partner with a local bakery to offer a coffee and pastry combo deal. Or maybe you have a restaurant that could partner with your local farms for a Farm-To-Table Dinner!
This can help both businesses reach a wider audience and increase customer loyalty.
Leverage Local SEO

Local SEO, or search engine optimization, is all about being seen. This digital marketing strategy helps businesses appear in local internet search results. When you google an industry, Google returns a list of businesses within that industry sorted by distance to you. This is SEO in action.
By optimizing your website and online presence for local search, you can increase your visibility and attract more customers in your area. Getting started with basic local SEO is easy: simply make sure your website includes your:
(N)ame,
(A)ddress, and
(P)hone number
on every page. Bonus points if you think about how people search for your product or service and start incorporating those keyword searches into your website's copy.
You can also create local business listings on Google My Business and other online directories, which can help your business appear in local search results. HubSpot has a great list of trusted online directories, be sure to check them out!
Growing your small business in a small town requires a variety of marketing strategies to attract more customers and increase customer loyalty. By leveraging local SEO, partnering with other local businesses, and hosting local events and workshops, you can build a strong presence in your community and stand out from bigger brands and corporations. The community generally wants to support local businesses. So make sure your business is offering a variety of ways to reach and engage with customers. Building strong community connections is usually the best way to ensure that your business stands out against the competition, no matter how big or long-standing they are.